By grahamstanley  http://www.digitalplay.info/blog/2010/05/01/top-ten-interesting-ipodiphone-apps-for-english-language-learning/
The idea of mobile learning (or M-Learning) is starting to become more and more popular as more people get access to smart phones and other devices that allow them to learn wherever they are.
Although only a small part of m-learning, the apps available for the iphone/ipod touch show what some people are using at the moment to help them learn English.
Here are ten of them apps worthy of interest. Most are well worth downloading (they can all be downloaded from iTunes) – a couple really aren't. Read the descriptions to find out more.
1. Word Challenge
Type: game Price: free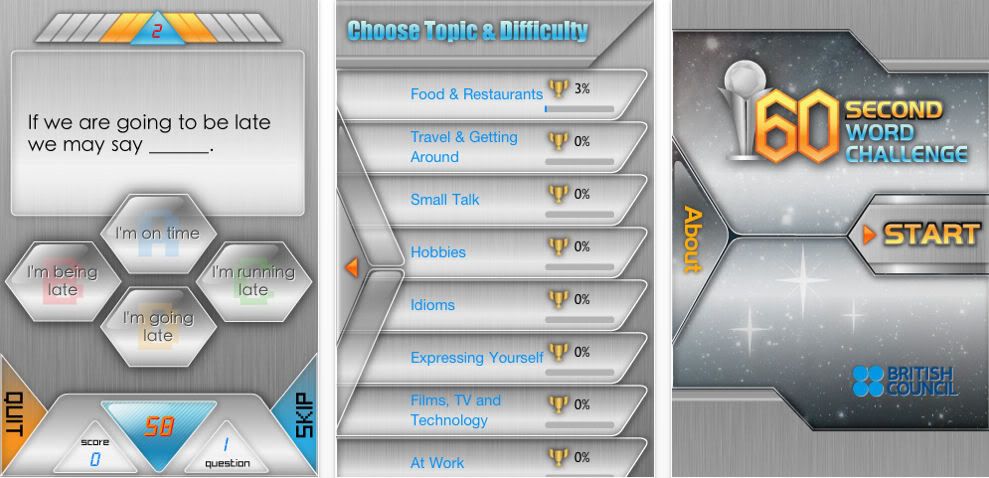 Description: A great new vocabulary game from the British Council. 3 different levels of difficulty and lots of different categories of vocabulary. How many questions can you answer in 60 seconds? When you have finished, the feedback shows you the answers and there is a brief description of why the answer is correct, with other examples of English in use.
What it Lacks: It's too fast for some. Although this makes it exciting to play, it can be frustrating for some learners. This is just the first version of the game though – later versions will be adding a speed button so you can slow it down.
Summary: Excellent. An engaging vocabulary game for learners – they will love to play it and it will definitely help them increase their vocabulary. Great to see that you can share your score on Facebook too – shame you can't do the same on Twitter.
2. English Grammar in Use Tests
Type: game Price: Euros 3.99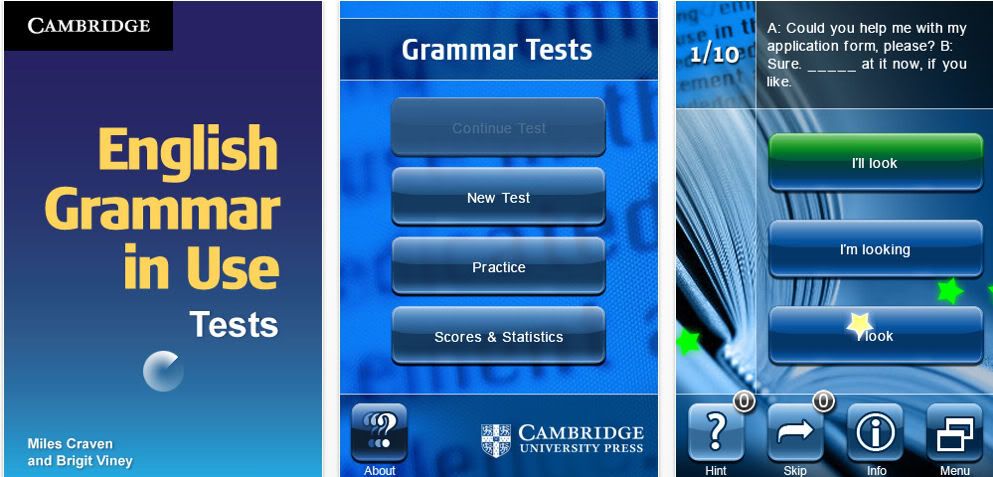 Description: It's not free, but it's one of the best English grammar apps available for the iphone/ipod touch at the moment. Based on CUP's (Cambridge University Press) best-selling grammar book of the same name, you can work through different levels (1- ).
Don't be put off by the word 'test' in the title, it's built like a game so it's more fun than working through the test exercises in the book. When you launch the app, you can choose 'practice' or 'test'. in the test mode you're presented with a gap fill exercise and three options. If you choose correctly, then the response turns green. If you choose wrong, it turns red. In the practice mode, you can choose specific aspects of grammar (tense, prepositions, articles, etc) to practise. Finally, there is a section on 'Scores and statistics' so you can see how you're doing.
What it lacks: Explanations of grammar (for this you have to go to the book) so students can see where they've gone wrong. Some users have complained the interface is too slow. There is a more comprehensive app of the same book (English Grammar in Use, Euros 7.99) with audio and other features, but it still lacks the grammar explanations.
Summary: Definitely one to recommend a student with an iphone/ipod touch who needs to practise their grammar but who wouldn't go near a book. Good value for money.
3. Free British English Gengo Flashcards

Type: flashcards Price: Euros free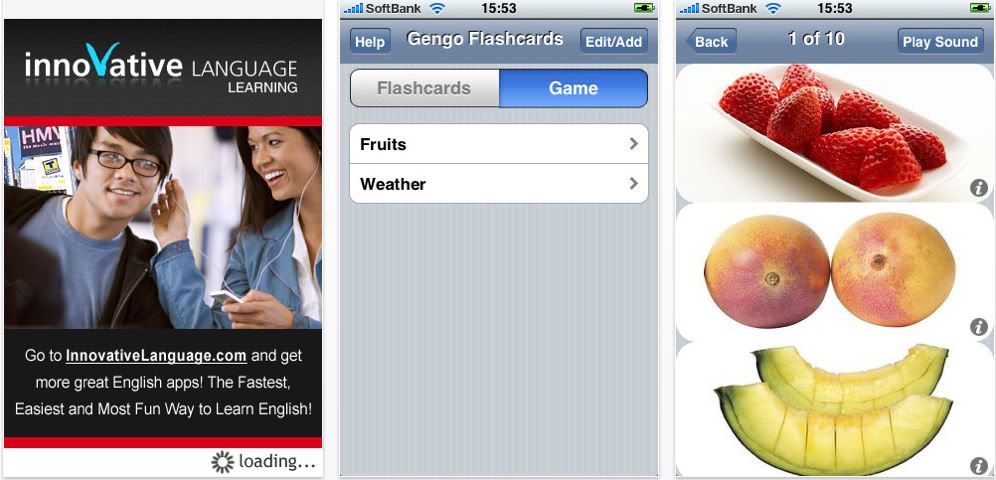 Description: There are lots of different flashcard-based apps out there. This one is one of the best systems. It allows sounds to be played, which helps with pronunciation and includes a game.
What it Lacks: There are only two sets of free flashcards (fruit and weather) – if you want more sets then you have to pay
Summary: A limited app, but does what it offers. Great way of learning more vocabulary for visual learners.
4. Cambridge Advanced Learners Talking Dictionary
Type: reference Price: Euros 17.99

Description: There are so many dictionary apps available that it's difficult to choose just one. I recommend sticking to the one you have found most useful. And, of course, there are lots of free English dictionaries, but, as usual, you get what you pay for. Although it'll be too expensive for many, this is a great dictionary for learners that is cheaper than the paper/CD-ROM version but just as complete.
What it Lacks: Nothing. Most reviews on the Apple itunes store are positive
Summary: A great tool for learners for self-study, although it's expensive for an iphone app.

5. Oxford Delux Dictionary and Thesaurus of English

Type: reference Price: Euros 42.99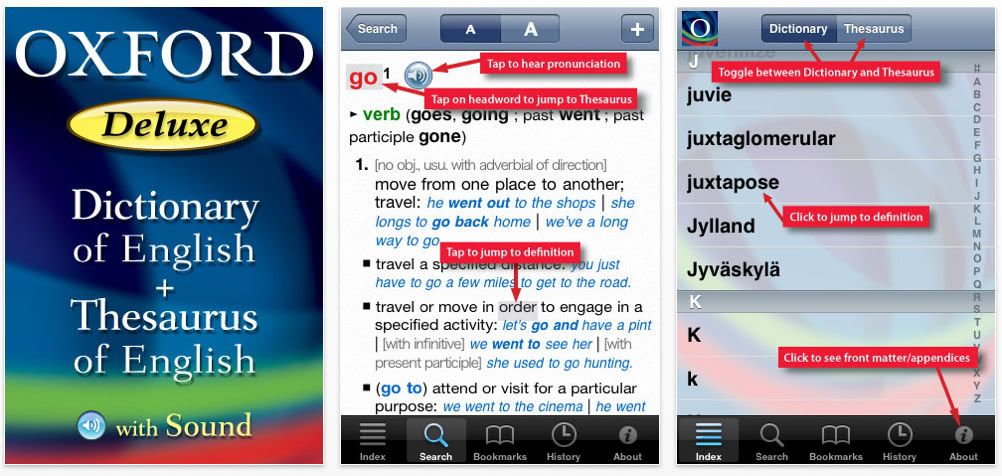 Description: If what you want is a fully comprehensive dictionary and thesaurus and money is no object, then this is definitely for you. It's the entire Oxford English dictionary and thesaurus plus audio for the iphone. It makes it one of the biggest (if not the best) English language reference guide currently available.
What it Lacks: nothing
Summary: Only for those with lots of cash to spend on iphone apps, obviously, but if what you want is an excellent comprehensive dictionary and you don't want to lug around the paper equivalent, then this is for you.
6. IELTS Master Vocab Guide

Type: game Price: Euros 4.99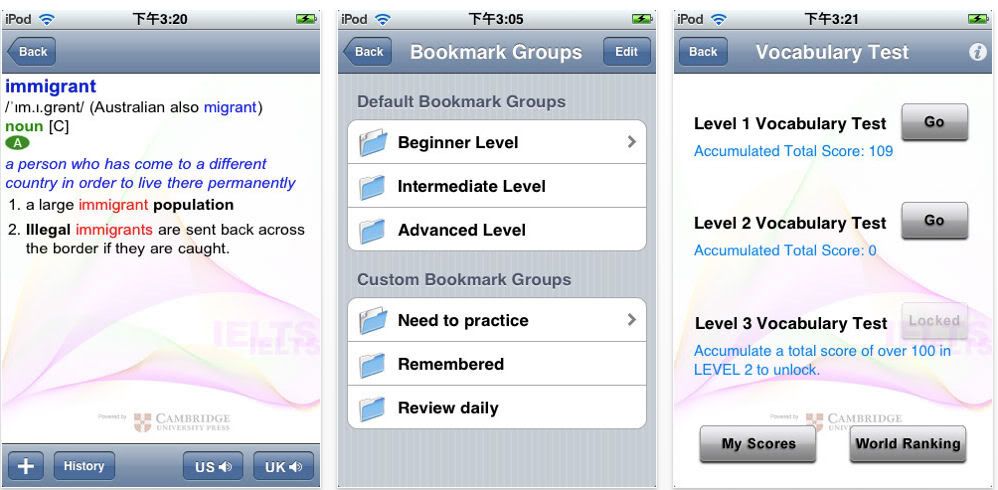 Description: If you know any students taking the Cambridge IELTS exam, then this is the app for them. complete with glossary and vocabulary tests, it will help students prpeare for the exam. Cambridge also produce similar versions for other exams (TOEFL, TOEIC, etc)
What it Lacks: Not as comprehensive or as good as the book – designed to be used as supplementary to it.
Summary: Good app for IELTS – a perfect complement for students looking at preparing for the exam and who want to use their iphone/ipod touch
7. Vaughan Radio

Type: game Price: free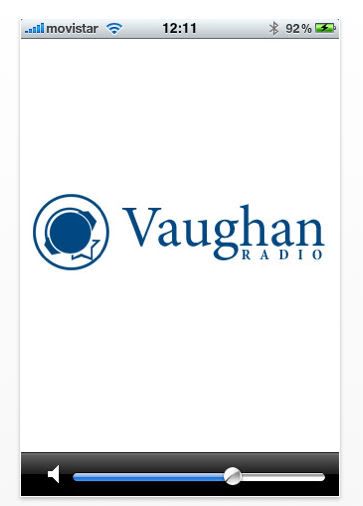 Description: Aimed at Spanish learners of English, this app is a simple one which allows anyone with a live internet access to tune into Vaughan radio live from Madrid. Vaughan radio is a radio station broadcasting 24 hours a day for English learners.
What it Lacks: There is no support from the app – just a screen with the log on it – it would be far more useful if there was information about programming and/or exercises sent simultaneously to the iphone/ipad while broadcasts were taking place (perhaps a future possibility)
Summary: Perhaps only of interest to Spanish learners of English, the app nevertheless shows a different kind of future direction for learners wanting to study English.
8. Tongue Mystery English

Type: game Price: Euros 0.79

Description: And now for something completely different. Tongue Mystery English is simply a collection of tongue twisters. You can practise, search for ones containing particular words and then there's a social networking aspect to them as you can share on Facebook and Twitter. Not particularly designed to help learners with English, but some may find it fun. I was disappointed though – it doesn't work very well and the content is poor.
What it Lacks: It has very limited in scope and interest. Would be better if it were free as it really doesn't have much content. Even if it were free, I'd probably not recommend you download it.
Summary: Odd app – one interesting thing about it is the sharing on social networking aspect – it's surprising that more apps don't offer this. Avoid this though – if you download it, it won't be on your iphone/ipod for long.
9. A Cup of English

Type: podcast support Price: Euros 1.59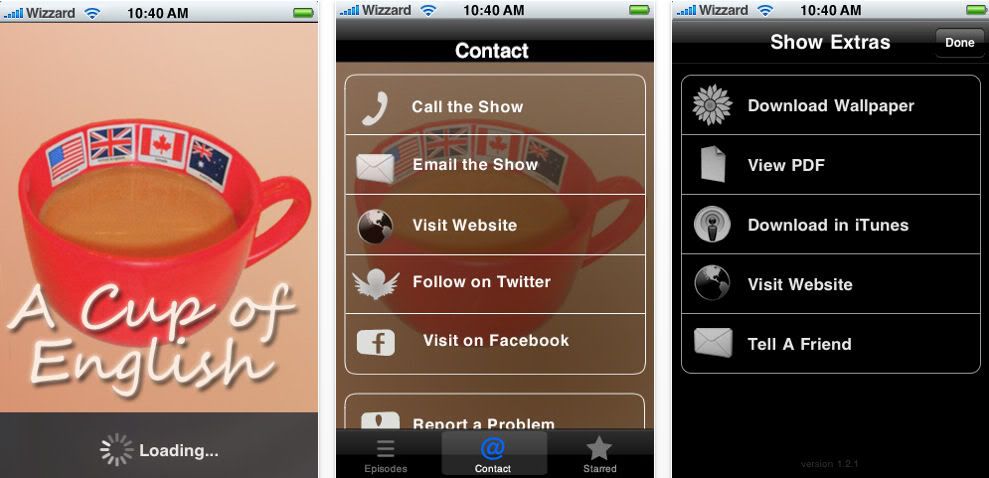 Description: A very interesting idea in theory – a podcast support app. When you start the app, it gives you a list of the available podcasts and when you choose one you get a transcript and the podcast. However, you can't listen to the podcast and read the transcript at the same time, and sometimes the background to the transcript means it's difficult to read. You can't increase the size of the text either, which means the font size is infuriatingly small.
I also downloaded the app based on the image in iTunes (above). It looked very interesting, integrating Facebook, Twitter, email and allowing iphone users to call the show – what a great idea! But the version that I have installed doesn't have Twitter/Facebook integration. Neither does it let you call the show, so very disappointing.
What it Lacks: See above, but basically a lot of what is promised on the iTunes page. Presumably the podcasts are available free from iTunes, so this is a complete waste of money
Summary: Cup of English promised something very interesting – if all of the features worked in the way you'd expect them to, then this would have been a very interesting app indeed. But they don't. And I feel cheated. In short, don't buy this app.
10. Conversation English

Type: courseware Price: Euros 3.99
Description: There aren't that many English courses out there for the ipod/iphone yet, something that will surely change. One of them is called Everyday English, uses a video of a teacher talking. It has ten lessons available, priced 0.79 euros each, and aims to give advice to students. However, the choice of language taught is questionable and it's just a video so it's not interactive at all. The Conversation English app is much better. It has 20 lessons, each one featuring a short audio dialogue (using an animated video).  Once you've listened to the video, you can read the dialogue and then there are comprehension questions and other exercises based around the dialogue (sentence ordering, vocabulary-definition matching, fill in the blanks).
What it Lacks: It's a very good app for the price – you could hardly ask for more
Summary: Following a story, the dialogues take the learner through a range of different conversations that are fun and the exercises that go with them comprehensive and informative.

I hope I have shown with this selection that there is already a lot of content out there for English learners with ipods/iphones. However, you have to be very careful what you choose to download as there are a lot of poorly produced and dubious apps out there. My recommendation is it's probably best to stick to the established names if you want good quality apps.  Beware of low cost apps that seem interesting on the surface but which will probably make you feel you've wasted your money. Be wary too of free apps and choose carefully. Even though they are free, they'll take up your time and energy (and ipod space) downloading them. Use reviews such as this to know what to try/what to avoid and ask people you know who've tried apps out to recommend ones too.
---